Food Storage Food Containers - Food Storage Labels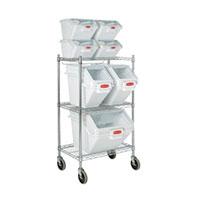 Ingredient Bins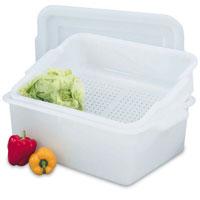 Vegetable Crisper Bin
Holding and storing food is a part of everyday life in the restaurant business. Food storage containers provide a safe solution for holding your products until they are fresh and ready to be used again.
From ingredient bins to tote boxes, we carry a wide variety of food storage containers to keep your kitchen organized and sanitary.
Storage Tips
• Properly store all perishable products within 15 minutes of being unloaded and inspected to ensure safe food temperatures.
• Keep raw and cooked products separated to prevent cross contamination. Ready-to-eat foods should be stored above raw foods and both should be properly covered.
• Speed up storage of newly delivered food by using first in, first out (FIFO) food rotation at all times.
Standard NSF Requirements for Food Prep & Storage Equipment
Food contact and food-splash surfaces must be...
• Easy-to-reach, easy-to-clean, non-toxic, non-absorbent, corrosion-resistant, non-reactive to food or cleaning and should not leave a color, odor or taste to food.
• Should be rounded with tightly sealed edges and corners.
• Should be designed with solid and liquid waste traps that are easy to remove.
Consider replacing items if:
• They're worn out.
• They no longer meet local health codes.
• They are no longer time or cost effective.
• They make it more difficult to adhere to your operation's HACCP plan.