Catering and Serving Equipments
There are no products matching the selection.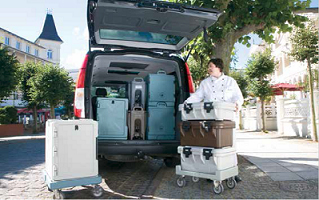 The right equipment helps solve labor problems. The less time it takes to sanitize a piece of equipment or to prepare it to process a different ingredient or menu item, the more time the employee can devote to production. This directly impacts profitability. Reliability impacts productivity, and catering and serving equipment that performs properly has a higher rate of productivity than those that do not. We carry: top-shelf strap frame chafing dishes, Mardi Gras diamond bowls, and a wide assortment of buffet ware. Jean's Restaurant Supply provides you with top quality name brands like: Cambro Manufacturing, Crestware and Tradeco.