About Jean's Restaurant Supply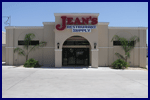 A little of our past, and a big future.
With general offices in the historic, vastly cultural, and growing South Texas city of Corpus Christi, Jean's Restaurant Supply has expanded into a commanding business in the restaurant supply industry since first opening its doors in 1983.
Under the guide of president and owner David Mostaghasi, Jean's Restaurant Supply has grown over the last 26 years to boast South Texas's largest in-stock inventory, and expand to multiple Texas cities including Corpus Christi, McAllen, and Victoria. 2004 saw Jean's Restaurant Supply move into its newly remodeled showroom, main office, and main warehouse at the conclusion of construction of its Corpus Christi headquarters, allowing Jean's Restaurant Supply to again expand inventory and staff to match the company's demand with its successes.
Jean's Restaurant Supply distributes a wide array of food service and industrial products including equipment and supplies, janitorial maintenance items, foodstuffs and industrial packaging, custom fabricated vents and hoods. Jean's Restaurant Supply's 5,000 customers operate healthcare facilities, hotels, schools, restaurants, airlines, office buildings, and industrial facilities in 20 states across the U.S. Jean's Restaurant Supply offers a superior array of goods and services designed to help business operators solve problems and drive costs out of the supply chain. Our sales consultants offer a bundle of value-added services to their customers designed to help them operate efficiently in today's competitive business environment.
In short, Jean's Restaurant Supply is your business solution, not just your distributor. Opening a new restaurant or expanding your current site? Let Jean's Restaurant Supply help design and supply your kitchen and dining room. From the local taco stand to the Schlitterbaun Waterpark and the New Robstown Baseball Stadium, Jean's Restaurant Supply has helped numerous clients big and small.
With our newly remodeled website, Jean's Restaurant Supply can offer customers near and far the same quality service and prices from which our local clients benefit. With our complete product catalog at the click of a button, customers can save time searching for new equipment, replenishing inventory, and bargain hunting...it's all right here!